I've decided to start this blog primarily to write about my thoughts on the BitCoin phenomenon, and specifically the legal/regulatory issues around BitCoin. None of what I write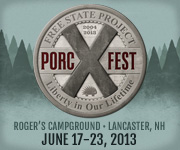 Currently I'm sitting in Roger's Campground in beautiful (but chilly) New Hampshire. I'm attending PorcFest, the Porcupine Freedom Festival, the annual Free State Project event. BitCoin is quite popular here. I haven't seen a vendor yet that doesn't accept BitCoin. The anti-authoritarian nature of BitCoin appeals to the Free Staters. This afternoon will be a panel discussion on BitCoin's future with Darren Tapp, Jay Best, Josh Harvey, Teresa Warmke. I will post a new blog entry reviewing the discussion. I have a lot in general to say about BitCoin and hope to update this blog regularly. If you have a particular question about BitCoin that you think I can answer, please feel free to contact me.
As an aside, I'm a licensed attorney in Florida with a long standing interest in Financial Cryptography. I also work in the area of Privacy Engineering for the Enterprivacy Consulting Group and blog on the topic of privacy at privacymaverick. You can follow me on Twitter at @privacymaverick.